Odd Man Outman
Gators starter dazzles with unusual pitching mechanics
Fauquier Gators pitcher Josh Outman uses an unconventional pitching style to keep batters guessing.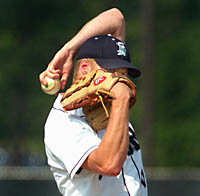 With only a handful of fans in the stands, the jokes and laughs from the Herndon Bravesí dugout easily reach the pitcherís mound at Liberty High School.
A lanky, 18-year-old Fauquier Gators pitcher warms up with his catcher, his eyes averted but his ears ever so aware of the taunting. He fires another practice pitch toward home plate.
The laughter erupts once more.
This is nothing new, though. Same taunts, different ballpark.
Wherever Josh Outman travels to pitch, the fans, opponents, coaches and umpires are there to make fun of him.
Braves leadoff man Skyler Doom swings at Outmanís first pitch, anxious to get a piece of the left-hander. He pops a weak fly ball to leftfield.
At least he got a "piece."
In the second inning, Outman strikes out three more Herndon batters for five in a row ó and all go down swinging.
Itís now the third inning. At this point, nobody is laughing.
"Heís something else," admits Herndonís Robbie Bouman, shaking his head.
Outman, a St. Louis native, is one of three people in the world to employ an unusual, unconventional style of pitching known as "the Outman Methodology." The other two are his father Fred, or "Fritz", and his younger brother Zachary.
"I guess it hasnít caught on yet," says Outman, now his turn to joke.
The origins of the unorthodox mechanics trace back to 1980, when Fritz Outman met with former baseball coach Roy Lee to discuss pitching techniques.
Lee, a former big leaguer with the New York Giants, introduced Outman to the topic of homo-kinetics and biomechanics in relation to pitching a baseball. The subject sparked an interest with Outman, who has spent more than 20 years researching and designing a pitching method superior to what he refers to as the "universally accepted, status quo mechanical approach."
In 2001, Outman published Over Powering Pitching, a book written to explain and teach his "Outman Methodology" for pitching a baseball.
"I wondered why pitching mechanics are the way they are," says the elder Outman. "My motivation was to quench my thirstÖto see if I could come up with a better way."
According to his text, Outmanís mechanical approach allows for a greater maximum velocity, greater rotation and a release point that is closer to the batter when compared to conventional pitching mechanics.
Additionally, Outmanís mechanics cause less damage to the rotator cuff and elbow of the pitching arm.
"I have developed the best way to exploit the physics and physiology of pitching a baseball," he claims, having coached and trained his two sons at home for nearly eight years.
The delivery, awkward in its appearance, begins with the pitcher raising his arm vertically with the ball, then bending it behind his head ó seemingly touching his opposite shoulder. The pitcher then pivots his front foot, beginning his follow-through with a "walking step" forward. There is no leg kick as with conventional mechanics.
"Itís different and it looks weird," says Josh Outman, who has been clocked at 93 miles per hour. "But I get more movement, more velocity. If you ask batters, theyíll tell you itís harder to pick up the ball."
Gatorsí third baseman Dustin Pritchett knows first-hand how difficult facing Outman can be. As his teammate at Forest Park Community College in St. Louis, he remembers the first time he stepped into the batterís box against the soft-spoken, 6-foot-1 pitcher.
"I thought he was screwing around at first," laughs Pritchett. "But it gets on you fast. You donít expect it to come that fast. Iíd never seen anything like it."
Neither had the Herndon Braves.
Following the first two pitches into their June 23 game, Herndon head Coach Chuck Faris approached the home plate umpire, questioning the legality of Outmanís pitching.
"Itís a different look, and I donít know that itís legal," says Faris, worried that Outman was touching the ball twice with his glove ó a violation. "It makes it tough because you get caught up with all this stuff going on, youíre not picking up the release point, and then the ball is on you."
It wasnít the first time that Outmanís mechanics have been questioned.
"Iíve had to learn the rulebook pretty well to defend myself," says Outman, assuring his compliance with baseball pitching regulations.
The unusual style has created quite a spectacle wherever Outman has pitched over his career. Back home in Missouri, hundreds of baseball fans would travel significant distances to catch a glimpse of the young phenomenon.
For the Outman family, the criticism was tough to take at first.
"My laboratory was out in the open," says Fritz Outman of his son, who has been pitching in front of crowds since he was 10. "Most new products are tested behind closed doors."
Oftentimes, those who watch Josh Outman pitch become immediately critical.
During his sophomore year at Lindbergh High School, Outmanís baseball coach refused to allow him to pitch for the entire season, based on his pitching style.
"He said if I used conventional mechanics then I could pitch varsity," says Outman. "I wasnít changing."
Outman went to the athletic director, principal, superintendent, and even the Board of Education to plead his case. It was when the coach saw him pitch in a travel, summer league game, however, that he changed his mind. Outman went 8-1 with a 0.82 ERA that summer prior to his junior year and became the Flyersí ace during the next two varsity seasons.
"Baseball is very traditional. Convention is difficult to discard and people are reluctant to change," says Fritz Outman. "If I had a nickel for every time somebody naysayed him. . .. Well, close your eyes if you donít like it."
Critiques and comments aside, Outman gets the job done on the mound. In his first season as a pitcher for the Forest Park Highlanders, he went 5-1 with a 2.50 ERA ó leading his team to a best-ever 45-10 record and an appearance in the Super Regionals of the NJCAA tournament. He notched his first collegiate no-hitter against St. Charles Community College in a 5-0 victory.
"We just look for results. Technique is not important," says former Forest Park head Coach Darin Hendrickson. "When you see a guy thatís a little unorthodox, you donít know what to do with it as a batter. By the time you figure it out, the gameís usually over.
"He pretty much did his thing without much problem."
Outman did his thing at the plate, too.
As an outfielder, he was selected as a first team NJCAA Division II All-American, as he crushed 13 home runs with 66 RBIs as a freshman. He was Forest Parkís only dual position player.
Outman, though, would like to continue pitching ó his first love. He understands the importance of success on the mound, especially with his unconventional delivery.
"To keep my legitimacy, I have to perform well with my mechanics," says Outman, currently 1-1 with a 3.50 ERA and 16 strikeouts. "I canít go out there and get shelled."
Skeptical baseball minds may prevent Outman from being drafted to the next level as a pitcher. But in his case, the disappointment would be short-lived.
"I want to go as far as I can with it. And if thatís just through college, then so be it," he shrugs.
Only one thing is certain for Outman.
"Wherever and whenever he pitches, everyoneís looking," says Pritchett.
And usually, everyoneís laughing.
But, according to his father, "when he starts striking people out, itís not funny anymore."